As a smart shopper, you may wonder if it's smarter to rent or buy a mobility scooter. The answer to this question depends on your needs and anticipated usage. Both buying and renting a mobility scooter have advantages and disadvantages to consider.
In this brief overview, we'll break down some important considerations to help guide you through the decision-making process. Important factors to consider include how often you'll ride, the type of scooter you want, wear and tear on the scooter, and financial considerations.
After reading this article, you'll have the right frame of mind to decide between buying or renting a mobility scooter.
The most important consideration when determining whether to buy or rent a mobility scooter is the frequency of usage. If your doctor has recommended you begin thinking about a mobility scooter, this likely means you're in need of frequent mobility assistance. While renting a mobility scooter is a viable option for vacations or special events, this won't help you on a day-to-day basis.
To determine your need to purchase a mobility scooter, consider how easily you perform your daily tasks without assistance. This may be a difficult topic to address, as it requires acceptance of potential medical diagnoses. If you have experienced more falls, slower walking speeds, or stability concerns, this may suggest you need to use a mobility scooter frequently.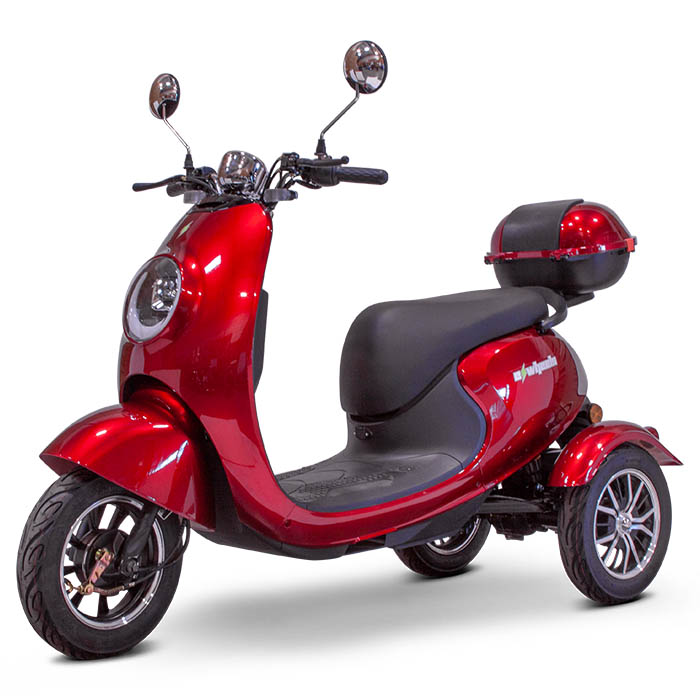 Remember, riding a mobility scooter does not have to be a penalty! In fact, the mobility scooter market has evolved over the years. Today, there are stylish, fun, and speedy mobility scooter options to choose from.
It is also important to consider your safety when thinking about purchasing a mobility scooter. If your doctor has recommended daily mobility scooter usage, this means they've suggested this with your best interest in mind. Putting off mobility scooter usage can put you at risk for dangerous falls or accidents.
Mobility scooters come in a wide array of sizes, speeds, shapes, and configurations. To determine the mobility scooter best suited for you, consider a few things. Many mobility scooter riders have specific features they're looking for in a scooter. For example, perhaps you're looking for a bariatric mobility scooter that can accommodate riders up to 400 lbs. Or, perhaps, you're looking for a scooter that can reach top speeds of up to 10 miles per hour.
Owning a mobility scooter allows you more personalization in choosing a scooter to match your unique needs. While many types of mobility scooters are available for rentals, the selection will be dependent on where you're renting from. For mobility scooters who like to frequently travel, this requires continual research to ensure your destination will have scooters for rental that match your needs. Purchasing a mobility scooter ensures you're always prepared with the perfect mobility scooter for you.
If you anticipate frequent or daily usage of your mobility scooter, you may also wish to consider how much wear and tear the mobility scooter will endure. When renting a mobility scooter, your contract will outline the condition in which the scooter should be returned. Most mobility scooter rental contracts require you return the device at the end of the contract in well-maintained condition. This means you could potentially be charged with damages, scratches, or other cosmetic problems upon return of the mobility scooter.
Owning a mobility scooter provides peace of mind and allows you to ride your scooter comfortably, without worry of maintaining pristine condition. When you purchase your own mobility scooter, you will also have assurance of the warranty provided by the manufacturer.
The price of a mobility scooter rental will vary depending on the location and type of scooter rented. In general, renting can quickly add up if you're in need of a mobility scooter for frequent usage. While renting is a great option for a single day or even week, renting a scooter everywhere you go can get costly quickly. In addition to rental fees, many scooter rental companies require a security deposit as well.
Over the years, purchasing a mobility scooter has become more affordable. A mobility scooter costs anywhere from $600 to upwards of $3,000. Coming up with the money up-front can be daunting when it comes time to purchase a mobility scooter. However, financial considerations go together with the anticipated frequency of usage. If you're in need of constant mobility assistance, rental fees will quickly surpass the amount spent to purchase a scooter.
When deciding to rent or purchase a mobility scooter, there is no one size fits all approach. Careful consideration of the factors mentioned in this guide will assist you in marking a smart decision. For vacations or short-term use, mobility scooter rentals make life simple and easy. For those in need of ongoing mobility assistance and who seek independence, purchasing a mobility scooter is a better long-term investment.