When it comes to choosing a bariatric mobility scooter, choosing one with the correct weight capacity for your individual weight is important for safe and smooth operations. Bariatric mobility scooters are heavy-duty scooters which are designed to support weights of up to 450 pounds. They are available in many styles and sizes and come with added stability designed to support higher weight riders.
1. E-Wheels EW-72 Scooter
The EWheels EW-72 Mobility Scooter is the perfect all-around mobility scooter for bariatric patients. This four-wheeled scooter provides optimal stability for riders up to 500 pounds. Additionally, the EW-72 has an outstanding travel mileage per one single charge at up to 43 miles! That is quite impressive for a bariatric mobility scooter. The E-Wheels EW-72 Heavy Duty Scooter is a smart investment for riders looking for a quality bariatric mobility scooter that rides smoothly on many terrain types.
Features of the EW-72 include:
Fast top speeds of up to 15 miles per hour
500-pound weight capacity
Up to 43 miles on a single charge
Available in four different color options to match anyone's style
Heavy-duty wheels allows for off road driving through grass, over gravel, on hills, etc.
Carrying basket in the back perfect to store your belongings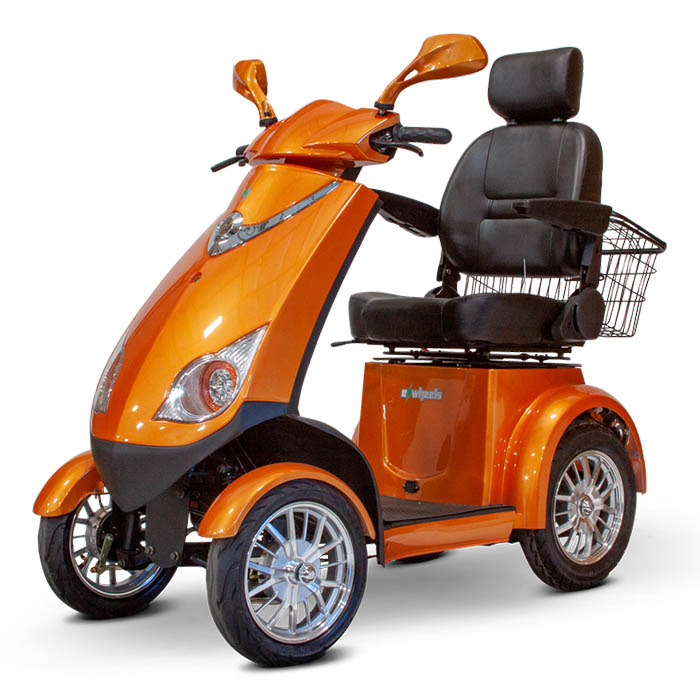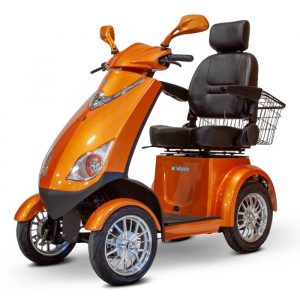 Not only does the EWheels make their scooters tough and durable, but they are also stylish. The EW-72 is the perfect bariatric mobility scooter for riders looking for some color on their scooters! This scooter is available in several metallic finishes, including bright colors like red and orange. Plus, the high weight capacity of this bariatric mobility scooter adds extra stability no matter what terrain you're driving on.
2. E-Wheels EW-52 Bariatric Mobility Scooter
The EWheels EW-52 Bariatric Mobility Scooter sets itself apart from other top bariatric mobility scooters due to its fantastic safety features. This bariatric mobility scooter comes equipped with rear view mirrors, turn signals, high and low beams, and many other safety features. You'll be ready to hit the road at any time of the day with the unique safety features of this mobility scooter. This scooter is a great option for many riders, as it can hold weight capacities up to 500 pounds.
Features of the EW-52 Bariatric Mobility Scooter
Stereo System with FM radio capabilities
Maximum speeds of up to 15 miles per hour
Remote key fob
Anti-theft alarm
Three bright, unique color options
500 Pound Weight Capacity
Perfect combination of sturdy, durable, and stylish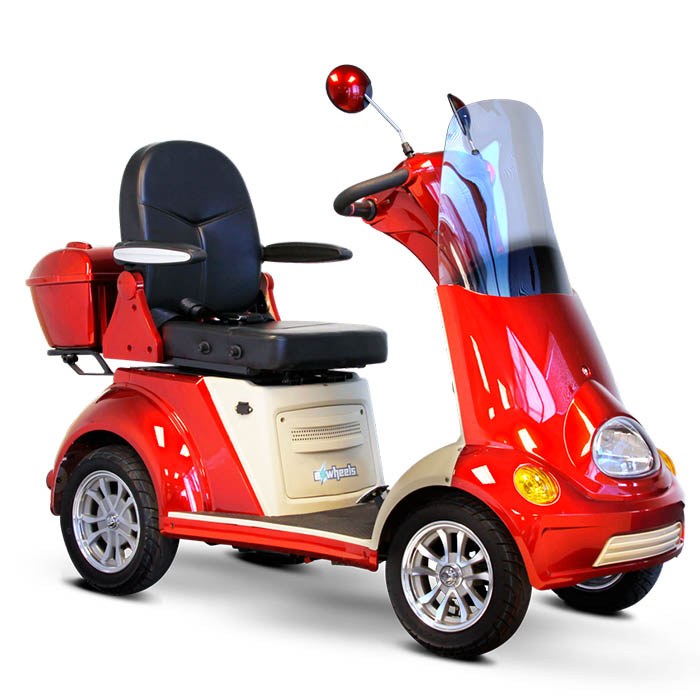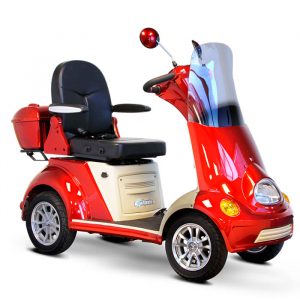 The EW-52 Bariatric Mobility Scooter is the ultimate mobility scooter pick for riders who want all the bells and whistles. This scooter features two stereo speakers and FM radio capabilities, allowing you to ride around while jamming to your favorite music. Even better, this scooter has ample safety features, like the high and low beam lights, to make driving your mobility scooter at night simple and safe.
3. Golden Technologies Companion II Scooter
The Golden Technologies Companion II Bariatric Mobility Scooter is the perfect option for for taller riders. It offers extensive leg and foot room, so you're never cramped for space while riding your scooter. Additionally, the 360-swivel sliding seat allows you to adjust the seating position to match your most comfortable driving position.
Features of the Golden Technologies Companion II Scooter:
Maximum rider weight capacity of 400 pounds
Dual rear-view mirrors for enhanced rider safety
Extra-wide arm pads for ultimate comfort
Top speeds of 5.3 mph
Compared to other bariatric mobility scooters, the Golden Technologies Companion II Scooter offers the most extensive space for leg and foot room. The uniquely designed swivel sliding seat is made with your comfort in mind. For riders looking for a durable scooter that is both comfortable and enjoyable to drive, this scooter is exactly what you need!
4. Drive Medical Cobra GT4 Bariatric Mobility Scooter
The rugged design of Drive Medical's Cobra Scooter allows riders to smoothly glide over rough terrain. Want to take your scooter out and about? No matter where you end up; a rocky park or a rough sidewalk, the Cobra GT4 scooter has the support and stability to effortlessly run on any terrain. This heavy-duty scooter can support riders with a maximum weight capacity of 450 pounds.
Features of the Cobra GT4 Scooter:
Top speeds of up to 10 miles per hour
Extensive LED lighting package for nighttime riders
Adjustable headrest and backrests
Low-profile tires
Weight Capacity of 450 pounds
Just like the EW-72, the tires are designed to go on all types of different terrains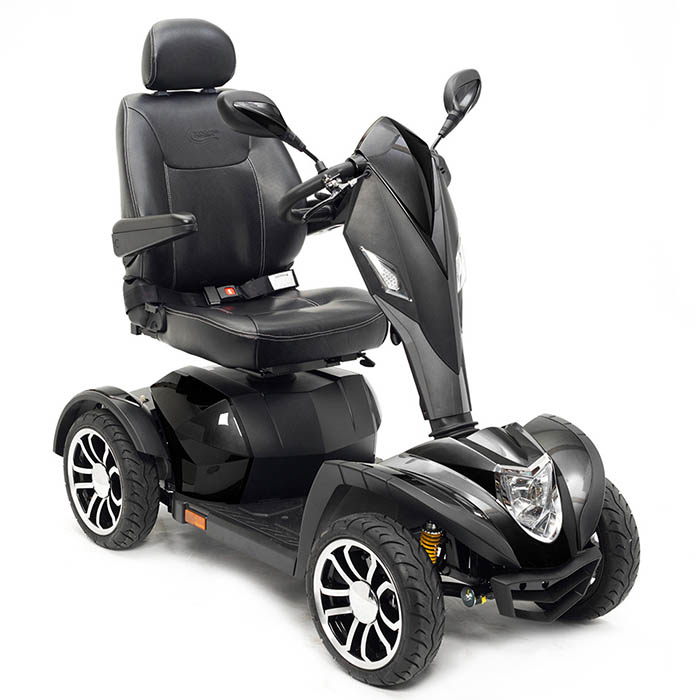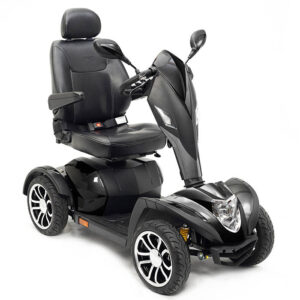 This mobility scooter encompasses everything you need in a bariatric mobility scooter. With complex seat adjustments for maximum comfort, extensive LED lighting, and an updated, modern design, you simply can't go wrong with this mobility scooter.
5. EWheels EW-46 Mobility Scooter
The EWheels EW-46 Mobility Scooter front and rear wheel suspensions allow it to ride over many types of terrain. The big wheels allows the scooter to work well when riding over grass, rocks, and other terrain. If you plan to take your scooter off road, this is a great options for you.
Additionally, you'll have plenty of driving visibility no matter what hour of the day you choose to ride your scooter. With multiple lights, the visibility at night is great. 
With a maximum weight capacity of 400 pounds, this scooter can comfortably support riders who need added stability in their scooter. Not to mention, you won't need to worry about recharging your scooter frequently. As the EW-46 Bariatric Mobility Scooter drives up to 35 miles on just one single charge.
Features of the EWheels EW-46 Mobility Scooter:
Full LED lighting system
Sturdy steel bumper for protection
Front and rear suspensions
Several shiny finishes to choose from
35 Miles on a single charge
400 Pound Weight Capacity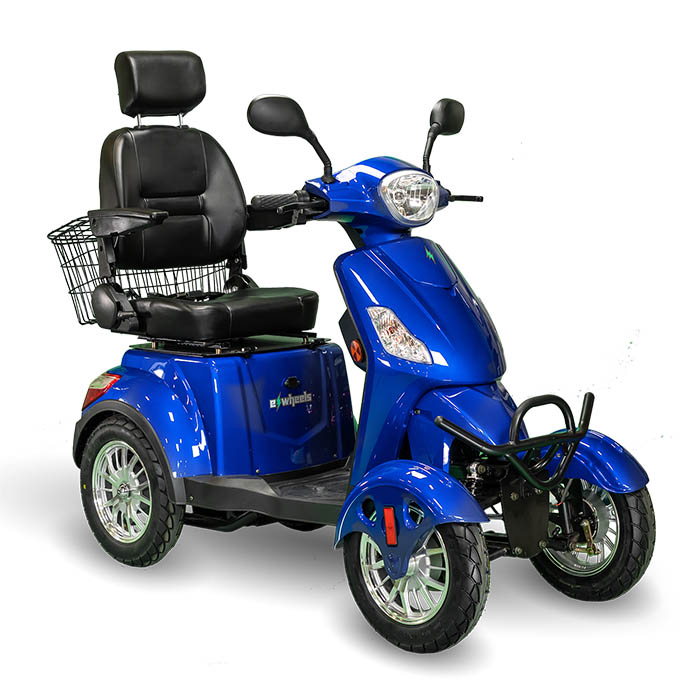 You'll be able to comfortably track your rides with this scooter's extensive dash display. The display allows you to see your speed, mileage, and remaining battery life. Bariatric riders love this scooter because not only is it easy to use, but it provides the stability you need in a bariatric scooter without compromising travel speeds.
Why do you need a Bariatric Mobility Scooter?
Bariatric mobility equipment is specially designed to support people of higher weights. Using a standard mobility scooter if you exceed the weight capacity can quickly stress the parts and damage your scooter. Furthermore, it is dangerous for the rider, as it can topple over and not operate smoothly. This can also be dangerous when operating your mobility scooter in crowded places such as malls, airports, and parks.
Choosing a bariatric mobility scooter that meets your weight requirements is important for your safety and for the longevity of your scooter. Many brands offer a wide variety of different bariatric mobility scooter options. However, pushing your mobility scooter past it's intended weight capacity can negatively affect your scooter's performance.
Signs you Need a Bariatric Mobility Scooter
If you notice your scooter cannot reach its maximum speed or has limited incline capabilities, this may indicate you are exceeding the intended weight limit. Using a mobility scooter weight and improper weight capacity can also cause increased tire wear, damage to your scooter's frame, as well as fewer miles per single charge. Although, there are plenty of options out there to fit anyone's needs.